Sarah & Henry's Babywearing Session – Downriver Babywearing Photographer
When I first met Sarah we talked about doing a babywearing session while our two rug rats played at Detroit Kid City! So much fun!
We talked about the details of a session and I also learned a little bit about her! Turns out, she's a doula! Check out her Facebook Page @doulasofdownriver and the website www.downriverdoulas.com ! She also admins a local babywearing Facebook page called Downriver Mi Babywearing. If you want to reach out find her on Facebook (Sarah Wood!) She's super nice and I promise she doesn't bite! 🙂
I had such an amazing time capturing these photos, please enjoy a "few" from Sarah and Henry's session! 🙂
It was hard, really hard, not to agree with everything Sarah was describing about how she saw the session. I mean. Gorgeous. <3
If you're not familiar with babywearing, you should look into it. There are many benefits of babywearing for your babies AND mom! Keeping your baby close and calm while playing with your older children is one great benefit!

From the short time I spent with her, I learned how laid back Sarah is. Henry was so so calm and just a happy baby while up on mama, until it was time to eat! 🙂
Here's a snippet of Sarah's views on the benefits of Babywearing and why she does it:
"Where do I start, babywearing has been a significant part in each of my children's life. I'm a strong believer of laying in immediately following birth. Keeping my babies close during the postpartum period, helps keep the oxytocin flowing and establish breastfeeding. However life continues and older siblings require attention. Babywearing during those early days was so important and helped create the bond between me and my babies. Today, my youngest loves to be worn and will not complain if he is in a carrier sometimes for 2 to 3 hours multiple times a day."
"I babywear for the convenience! My children are so much happier while being worn. In our home, we have seen a significant reduction in crying while worn compared to other techniques we have tried. I know that I am building the confidence for my little ones to explore the world when they are ready."

Interested in knowing what wraps Sarah had for our session? Here they are: Pavo flax etini size 6, Oscha Roses zen size 6, Artipoppe Canapa denim size 4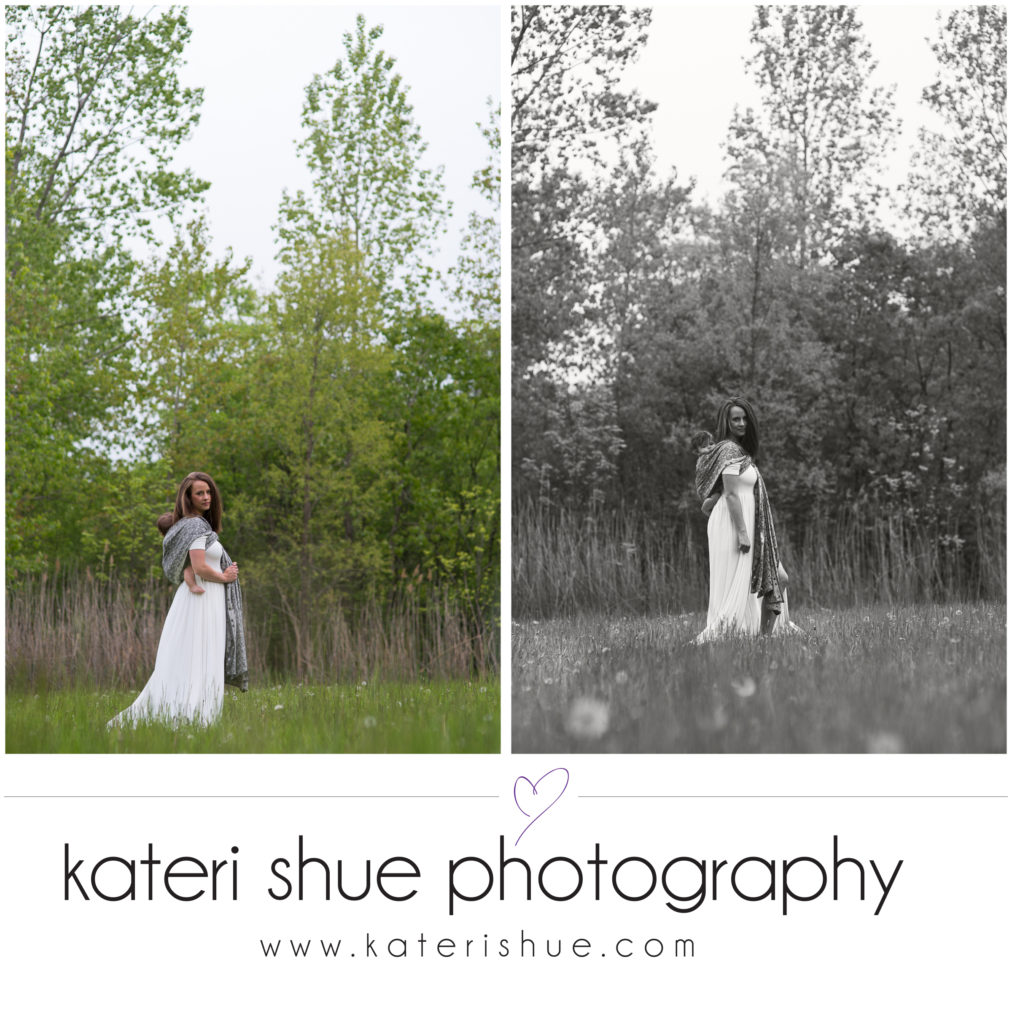 One of Sarah's favorite parts of the session <3:
I hope you enjoyed my session with Sarah!
If you would like to book your own Babywearing Session, contact me today!
HAVE QUESTIONS OR READY TO BOOK YOUR SESSION?
Because Kateri only books a few sessions per week, it's important to get on her calendar in advance.
If you have questions or would like to schedule a consultation at the studio, just let us know.
Kateri Shue Photography- Metro Detroit Photographer
Serving Macomb, Oakland, St Clair and Wayne counties
email:: info@katerishue.com
web:: www.katerishue.com
FB:: katerishuephoto
Instagram:: @kshuephoto